Just bought this box and was annoyed that I couldn't reach all parameters without a computer, which is especially annoying in the case of the Mod Wheel and Aftertouch settings. So I made a small panel just for the hidden settings.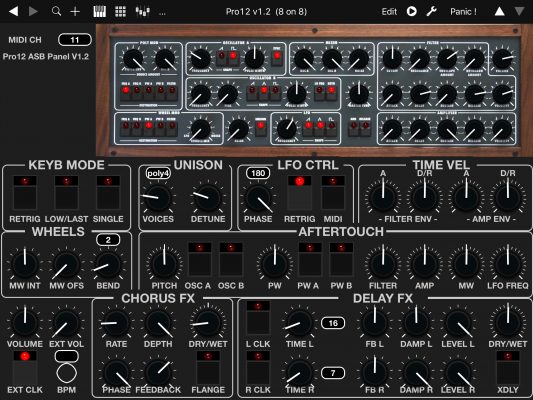 Nice thing about the Creamware way of doing things is that all parameters are transmitted as CC commands - and the box sends them whenever you select a new preset, so the TBMS panel actually shows which value the controls are set to. From V1.2 onwards, I even use this to show the settings for the sound - although virtual doubles for the actual knobs do not seem to make much sense, you can see at a glance what the sound programmer has been doing.
Connect via USB (yes, it's class compatible), and set in/out to Pro-12 ASB. Don't forget to adjust the MIDI channel as well. May still have occasional bugs (I'm not sure about the Aftertouch/MW setting but that may be a bug in the firmware). Hope you like it.
Version is V1.2 as of 31-Dec-2017.