I've made myself a controller for the Oberheim Matrix series - I have been owning a Matrix-1000 module since the 90s and have only recently started rediscovering it. As there are still a couple of Matrixes around, I guess it might be of interest to a couple of TBStuff users.
You'll find the actual canvas file at the end of this post - please read this first.
It's all still beta. I tested every control, but if you run into a bug or have an idea for improvement, please drop me a hint.
You have to be aware that the Matrix is an old machine - it's not really fast enough for real-time tweaking, and there are a couple of bugs in the firmware, most famously the inability to edit ENV1 Sustain and ENV2 to VCA with a controller. The controls that don't work are black, and you are advised not to touch them - unless you are using the 1.1.3 firmware patch, or a Matrix-6.
And you won't be able to control the synth's strongest asset, the Modulation Matrix - as TB only allows to use one variable in a sysex command. I've devised a partial workaround, but as this involves adding more than 200 elements, I'll leave that for later.
EDIT: This works now, see below.
Talking of the Matrix-6: You can use the controller for this synth as well, but positively no matrix modulation control here - the instructions for setting it are not implemented in the M6 firmware.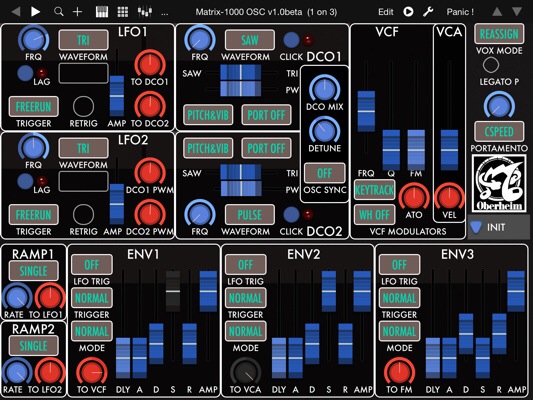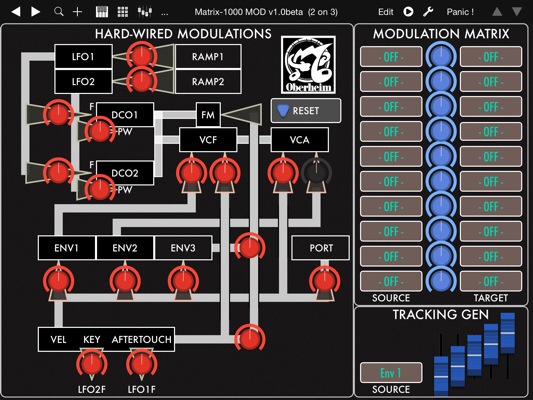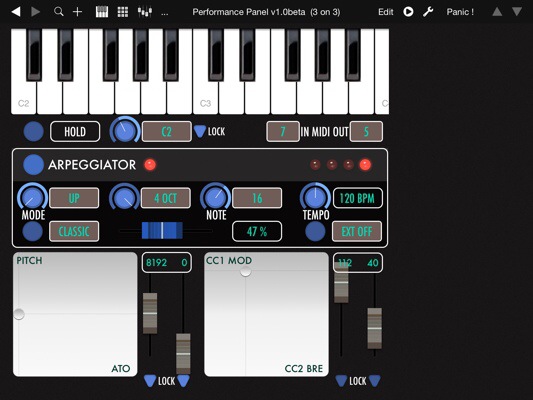 More on the Matrix-1000 and its issues here in my blog post for the controller:
http://www.untergeek.de/2014/03/reclaiming-the-matrix-new-life-for-an-old-beast-via-ipad-control/
I also ran into a couple of issues with TB Midi Stuff; I'll elaborate in a support thread.
There's still room for improvement. As stated above, I'd like to implement at least partial control of the mod matrix (in the form of "presets"), and I'm going to do a "Init Sound" button that also resets all controls.